Wir wir ja schon wissen beginnen die Dreharbeiten im Juli..also ist es nicht mehr so lange hin. Nun bestätigte Joseph Julian Soria (bekannt aus 'Army Wives'), dass er die Rolle des Rico übernehmen wird. Rico ist einer von Cole's (Kristen) besten Freunden.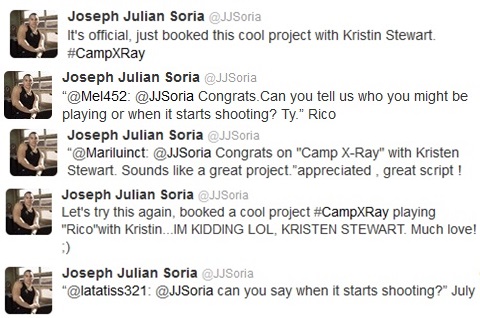 The Wrap

Set in the U.S. Military's Guantanamo Bay detention camp in Cuba,

Stewart will play Cole, a soldier who strikes up a friendship with one of the young prisoners

.


Soria will play the role of Rico, described as one of Cole's closest friends on the base

. Very naive, maybe a little dim, Rico offers Cole support and backup when she needs it most.
via
JosephJulianSoria