UPDATE - September 2018.
Kristens Film "Against All Enemies" ist abgedreht
Robs Film "The King" ist ebenfalls abgedreht
Top-News: Kristen dreht seit einigen Wochen schon in BERLIN (💕) ihren neuen Film "Charlie's Angels".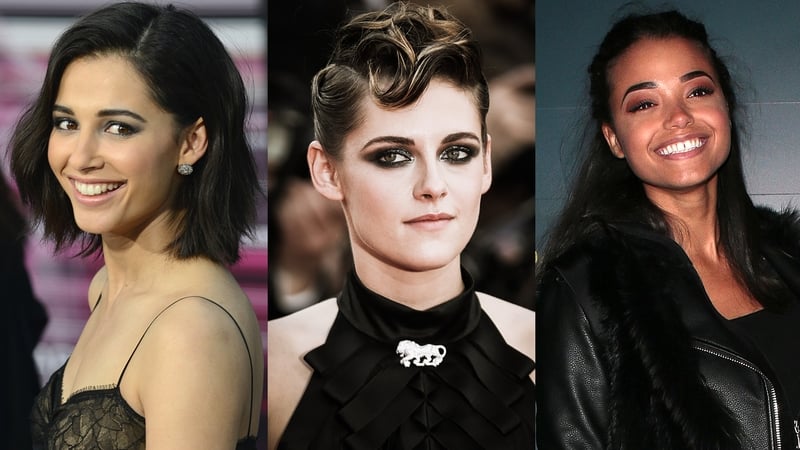 Die 3 neuen Engel für Charlie
Der Film ist eine Neuauflage der großen Filmhits '3 Engel für Charlie" und wird von Regisseurin (&Schauspielerin) Elizabeth Banks verwirklicht. Es wird für Kristen mal wieder ein ziemlich großer Blockbuster und die News, dass das Power-Frauen-Trio rund um Lucy Lu und Drew Barrymore ein Reboot erhält, sorgte weltweit für Schlagzeilen! Ich habe die Originalfilme bisher noch nicht gesehen und war noch zu jung, um den Hype mitzukriegen, aber von dem was ich lese, scheint das eine riesengroße Sache zu werden! Filmstarts hat sich ein bisschen genauer mit dem Projekt befasst, für alle die es interessiert:
hier
. Ganz besonders freut mich, dass der Film in Berlin und vor allem in den Filmstudios Babelsberg gedreht wird :) Man kann ja mal davon träumen, dass man Kristen zufällig begegnen wird - und so eine deutsche Ko-produktion erhöhen auch oft die Chancen auf eine Beteiligung an deutschen Filmfestivals und Promotouren 😏
Neues Filmprojekt für Rob: "The Devil All the Time"
Viel ist noch nicht zur Handlung bekannt, aber kann bisher gesagt werden: Rob wird neben Tom Holland (der neue Spidey), Chris Evans (auch so ein Marvel-Superheld) und Mia Wasikowska (again!) vor der Kamera stehen.Regisseur ist Antonia Campos.
Moviepilot
schreibt:
Das Drama The Devil All the Time spielt im ländlichen Ohio und begleitet verschiedene bizarre Charaktere zwischen dem Ende des Zweiten Weltkriegs bis in die 1960er Jahre hinein. Unter ihnen befindet sich auch Robert Pattinson, der als Spinnen-affiner Prediger mit seinem Gitarre spielenden Sidekick auf der Flucht vor den Gesetzeshütern ist.
"Waiting for the Barbarians" - Auch dieses Filmprojekt befindet sich noch in der Entwicklung, doch Rob ist schon seit längerer Zeit für die Hauptrolle im Gespräch. An seiner Seite soll Johnny Depp spielen! Regisseur wird Ciro Guerra. IMDb schreibt über die Handlung: A British magistrate working in a small colonial town begins to question his loyalty to the Empire.
Film-News von Rob & Kristen!
🎥
🎬
🎞️
Schon nächsten Monat wird Rob einen neuen Film drehen: "The Lighthouse". Neben Rob steht Willem Dafoe als Hauptrolle vor der Kamera. Der Horror-Thriller spielt Anfang des 20. Jahrhunderts in Nova Scotia, Kanada. 🗼
Und auch Kristen traut sich ans Thriller-Genre ran und wird die Hauptrolle in "Against All Enemies" übernehmen. Die Handlung basiert auf einer wahren Geschichte und Kristen wird Jean Seberg verkörpern. Die Ikone der französischen Nouvelle Vague (vielleicht kennt ihr sie aus dem wunderbaren Filmklassiker "Außer Atem" von Jean-Luc Godard), wurde in den 60er-Jahren vom FBI verfolgt, da sie die Black Panther Party unterstützte.
Kristen mit ihren kurzen blonden Haaren passt wirklich gut ;)

Beide Projekte klingen sehr spannend! Schon optisch kann ich mir Kristen mit ihren derzeit kurzen Haaren toll als Jean Seberg vorstellen & auch die Story klingt sehr spannend. Auch Robs Film macht neugierig, besonders das Setting in einem Leuchtturm. Und ihn mit Willem Dafoe in einem Film zu haben, ist auch schon ein Erfolg 😃